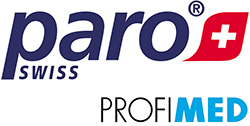 paro is where dental care meets Swiss innovation. The result is a globally unique prophylaxis system with numerous items in the areas of "Dental and oral care", "Toothbrushes" and "Interdental care".
For more than 45 years, paro has made itself at home in the world of oral hygiene and is permanently available all over the globe.
Innovation, durability and care form the basis of the company's philosophy and are reflected in all our products.
MADE IN SWITZERLAND SINCE 1969
paro is the house brand of the long established Swiss company Esro AG, based in Kilchberg near Zurich. Esro AG was founded in 1969 and specialises in the manufacture of dental care products.
Our team, composed of consulting, production, research and development, work daily with cautiousness and care for your lasting bright smile.
Contact information
Email: info@profimed.ch
Phone: +41 44 723 11 11
Website: www.paro.com